Slow Dentistry | iSmile Studio
Nourishing your oral health over the long-term, thanks to Slow Dentistry!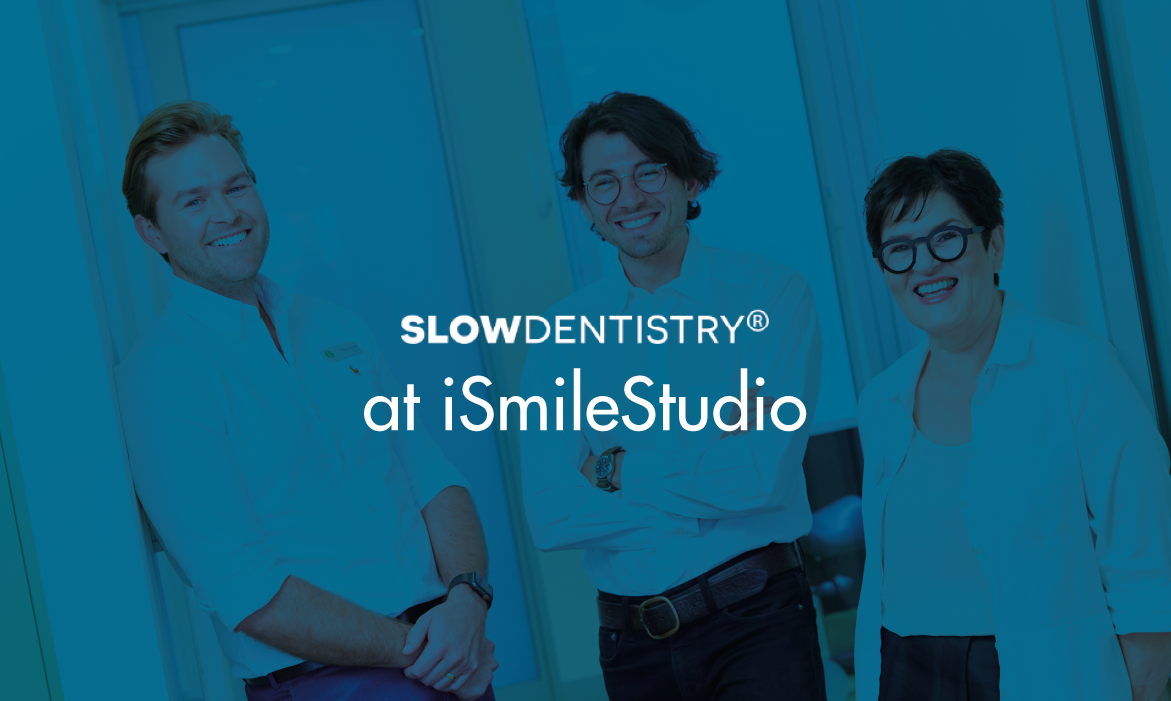 An increasingly popular global movement is prompting a cultural shift towards embracing a slower pace of life. This shift can be observed across an increasing number of areas, from food, to cities, to parenting, and dentistry.
We're all familiar with the concept of fast food. To most of us this typically means a meal prepared with efficiency and speed, probably using processed ingredients. Often consumed on-the-go, it provides a quick and easy fix to satisfy our hunger at a time when our lives are busier than ever.
Despite its popularity, fast food does not tend to have any real long-term benefits to our health and wellbeing, and does not represent a mindful approach to eating. And as we all know, frequently consuming these types of food can lead to obesity, metabolic syndrome and a host of additional problems.
At the other end of the spectrum is the slow food movement. The creation of home cooked meals, for example, requires a slower approach, filled with care and love, and with creative techniques that are perfected over time. It's a philosophy that values fresh and seasonal ingredients, mindfully selected, not only maximum flavour, but also maximum nourishment for body and soul. Where possible, slow food ingredients are sourced locally, which not only supports the community, but is also better for the planet.
This way of life involves slowing down, being mindful of our actions and their impacts, and doing things as well as possible rather than as quickly as possible, is what's driving the recent wave of dental practitioners across the globe joining a movement known as Slow Dentistry. Like home cooking, it requires care, dedication, passion, innovation, and a commitment to continued learning and improvement in the pursuit of excellence.
Governed out of the Slow Dentistry Global Network headquarters in Switzerland, the philosophy is particularly relevant in the age of COVID-19, thanks to the new and improved standards of safety it helps to create.
I have developed a keen interest in this approach to dentistry during recent years, and iSmile Studio has now officially become a member of the the Slow Dentistry Global Network. In doing so, we join an ever-increasing number of clinics, dentists and hygienists committed to taking the slow steps required to maximise patient wellbeing.
The Slow Dentistry Global Network describes its mission as, "Raising standards of care in dental practices worldwide for improved safety, understanding, comfort and wellbeing of patients."
Put simply, Slow Dentistry means spending more time looking after the oral health of each patient to ensure optimal results. Fundamentally, a Slow Dentistry clinic takes a patient-centric approach and differs from a regular clinic by offering a minimum appointment time of one full hour. This extra time allows trusting relationships to be established and provides patients with reassurance that all the necessary steps are being taken during their appointment, for the best quality care.
Over the past thirty years, iSmile Studio has continually evolved. It is a reflection of my understanding and interpretation of the elements that make an exceptional dental practice. It is a culmination of years of experience working as a dentist, and the insights gained. It is a reflection of my view of the world, my view of health, my outlook on life, and my knowledge of the latest innovations and technologies.
My interest in Slow Dentistry was initially piqued when I noticed synergies and similarities between the core principles upon which iSmile Studio has been built, and the cornerstones of the Slow Dentistry approach.
The cornerstones of Slow Dentistry
Thorough, effective and regular disinfection of the space, comprising everything from the hands of practitioners, to the dental chair, door handles, floors, surfaces and equipment.

Informed patient consent for every treatment, with the risks and rewards carefully explained before a consent form is signed. This cornerstone in particular allows practitioners to empower their patients to make informed choices, and better influence their own dental care.
Effective anaesthetic of impacted areas pre- treatment, wherever it's deemed appropriate. By spending extra time during this stage, practitioners are able to make sure the anaesthetic has enough item to take its full effect and offer optimal benefit to the patient.
Rubber Dam use during all root canal treatments and other procedures that require teeth to be isolated, for the prevention of cross-contamination.
 Supporting a whole-of-health approach
The Slow Dentistry ethos aligns with our belief in a whole-of-health approach to dentistry, otherwise known as 'biological dentistry'. We recognise the health of your mouth is indicative of what is happening elsewhere in your body.
When developing treatment plans, we take into consideration factors including underlying health conditions, diet and lifestyle. These insights are used to develop the optimal approach to addressing your specific dental needs. This approach is further strengthened by the use of only biocompatible and metal-free materials during procedures, which offer the best results without having an adverse impact on the body.
The principles of Slow Dentistry support this biological approach by creating an environment in which extra time is taken to identify and address the real issues impacting a person's oral health, the function of their mouth and, of course, their smile.
Embracing the latest developments in dentistry
Our ongoing commitment to keeping up with changing standards in dental technology is another core principle, as we continually research and implement the latest tools for improved patient care.
Most recently we have actively embraced Digital Smile Design (DSD), an innovation which allows dentists to create digital visualisations pre-treatment, depicting the impact of the work and how the patient's new smile will look at the end of the process.
Slow Dentistry in the age of COVID-19
In many ways, the existing iSmile Studio ethos, combined with our keen interest in the principles of Slow Dentistry, have placed us in a strong position to continue offering dental services, while simultaneously working to mitigate the risks associated with COVID-19. 
The Slow Dentistry approach has proven invaluable, not only by ensuring the most thorough levels of care in our practice during these challenging times, but also by reducing footfall, providing more time for disinfection, and consequently creating a safer environment for all.
While the kinds of comprehensive infection control measures required under Slow Dentistry have always formed a vital aspect of the care we provide at iSmile Studio, in light of COVID-19 we felt it was important to revisit our safety protocols, and explore ways of stepping them up. You can find more details about the specific steps taken to adapt our services during COVID-19.
Taking a slow approach to dental care is tried and tested, and we believe represents the future of dentistry. Just like a home cooked meal created with love for maximum nourishment and enjoyment, Slow Dentistry is about more than offering a quick fix to one particular problem. It's about nurturing your oral health in a way that boosts your overall wellbeing from the inside out.
Dr. Milla Duchovni